Posted in: Concerts & Events, First Friday, Local Talent, News | No Comments | Posted on July 7, 2018 by Mary Anne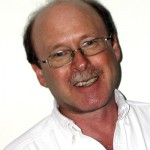 July First Friday at the Cheeky Monkey: Life Signs as a Three-Piece (Or Life Without Their "Fiddely-Bitter")
Written Saturday July 7, 2018
by Brian Hay
Life Signs were missing their lead guitarist this time around but the change added a different element to their work. John Foster, who was unavailable due to work commitments, was definitely missed at times, as well he should have been. His kind of tasty work is hard to replace (especially when another member has to do double-duty and make things up on the fly) but being faced with situations like this often brings out things from band members that aren't seen otherwise. That was true to the max in this instance.
For one thing, the band's rhythm section stepped things up a notch. That's always good but when the players have the skills drummer Scott Elliot and bassist Mike Vasek bring to the fore, mesh nicely as a unit and still know when to hold back, things become really sweet. Those two showed some licks, both individually and in passages they wove together.
Frontman and rhythm guitarist Wes Beverage accepted the double-duty with panache and grace. He stated right from the start they were going to be trying things and then, tore right into them. His lead picking on the acoustic instrument was excellent and his rhythm playing had a level of authority that's not usually seen when he works alongside a lead guitarist. That was particularly true whenever he switched to his electric guitar (a beautiful Ibanez hollow body). That instrument has a sonorous echo that leaves notes hanging as the next ones are introduced and it added something very unique to the band's sound. It can be tricky to manage but when the guitarist has the control Wes displayed what it offers is exquisite.
Their sets touched on a number of periods. There were several numbers from the early works by Elvis Presley and at least one from the same time frame by Johnny Cash. They moved forward a decade and a half to play Steve Miller's iconic 'Space Cowboy' and found their way into the '70's to perform a piece by Greg Kihn. From the space between those periods they drew out a huge highlight (for me anyway) by performing a stellar rendition of 'Under My Thumb'. That song in particular was an excellent fit for the sound of the Ibanez guitar Wes was using.
At the end of the day what stood above everything was how much fun it was to simply drink their set in. The list of songs they put together had an excellent balance. The pieces, familiar or not, were all catchy and the exuberance in their playing was infectious. That was obvious from the way the audience embraced it. Several people came and went as is normal for a First Friday but a fair number stayed for the entire show. That's to be expected though.
Few things are as inviting as music when it comes to selecting a home for the evening.
FOR MORE PHOTOS TAKEN BY Brian Hay CLICK HERE
Next First Friday at Cheeky Monkey is August 3rd from 7:00 – 9:00 pm featuring EMM GRYNER live in store.