Posted in: Concerts & Events, First Friday, Local Talent, News | No Comments | Posted on October 6, 2018 by Mary Anne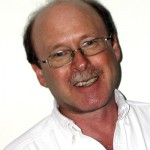 Sarnia's First Friday, October 2018: Missy Burgess, Dwayne Cloes and Wulf Von Waldow at the Cheeky Monkey
by Brian Hay
The great thing about live music is the opportunity for spontaneous combustion is always there. When it happens, it's felt as much as heard and it produces a moment in time that can never be duplicated. It's a one-time thing and it's glorious.
When Missy Burgess and Dwayne Cloes came together with Wulf Von Waldow there hadn't been a lot of time for them to "prep" themselves. Missy and Dwayne had played together a few times but the rest fell to each being able to follow what they heard and invent things on the fly without drifting away from each other or the songs. It's risky. Playing "wrong bits" or showboating creates a train wreck. Paying attention and supporting each other to serve the music produces something that's magical and often, magnificent. That the last point was a shared goal here was obvious from the start.
Missy was clearly at ease with Dwayne as a rhythm partner and Wulf as an accompanist. Dwayne Cloes, who's an incredibly well rounded musician to begin with, is also an empathetic and sympathetic player. Whether the instrument is guitar, upright bass, or (in this case, a drum), his goal is to compliment what's going on. The back beat that he placed underneath Missy's vocal and work on the guitar provided a foundation that was as solid as it was subdued. The wash from the brushes he used was gentle, rhythmic, and invariably tasteful.
Wulf Von Waldow had a brilliant outing. His accompaniments created tonal colour and ornamentation that meshed into the songs beautifully. Solo passages were of varied length, but always just long enough to leave the audience longing for more. And what solos they were! Beautifully crafted with impeccable control of tone are terms that fit but only part of what made them great. Each was just the right bit for the material they supported, and spontaneous with the imagination as the intellect and passion providing the feel. One instance that stands out happened when the trio played Tom Wait's song, 'Jockey Full of Bourbon'. Wulf introduced that solo with long sonorous notes, creating a "New Orleans" feel that stuck like glue and stayed in territory relevant to the song and the sensation. It was a beautiful exhibition of taste combined with ability.
Missy Burgess clearly loved the way this came together. She was at her most relaxed, playing effortlessly between her bandmates, and singing with the combination of restraint and abandon that only comes about when musicians are in a comfort zone. Her singing, incredibly bluesy and wonderfully expressive, was impassioned and joyous, scoring bulls-eyes on the heart with every note. Songs of her own such as 'Basket of Blues' sparkled with the freshness of numbers that become new with each rendering. Covers of pieces like Charlie Chaplin's 'Smile' were radiant. 'Time' by Tom Waits got one of the great readings she's given to it, and there's been no shortage of those.
Highlights were abundant. Dwayne Cloes stepped in with accompaniment on a Kazoo at one point. They did it for laughs but it became serious musically even while producing chuckles. Time cut their set list short but Dwayne and Wulf found the space to perform 'Blue Train' an original of Dwayne's. The call and response they crafted was fantastic and the way Dwayne played the guitar parts evoked thoughts of blues legends such as Muddy Waters, John Lee Hooker and even Robert Johnson. Missy's own piece, 'Don't Go To Cincinnati' was performed brilliantly with excellent contributions from everyone in the group.
It was great night of music making, to say the least.
FOR MORE PHOTOS OF THE NIGHT CLICK HERE
Catch Missy & Dwayne at The Lawrence House on Friday, October 26th from 7 to 9 p.m. Tickets are $10 available online at lawrencehouse.ca or at the Lawrence House