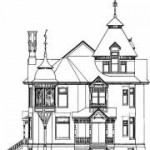 Local musicians in an intimate listening environment.
The wonderful acoustics of the Turret Room.
Tickets are $10 (including tax) and can be bought online by CLICKING HERE or in person at the Lawrence House.
The House Concerts are supported by the County of Lambton Creative County Fund, Leonard Segall and Marilyn Mason.
Sidewalk Party, Sunday, October 22nd, 3 – 5 p.m. in the Turret Room
Cynthia Fay and her friends Ben Rowley and Stephen Halsey in the Humber College jazz program will be presenting music in a variety of styles.